Missing teeth got you down? Lakeland Family Dentistry in Flowood, MS, has the solution for you – our implant supported bridge in Flowood MS looks and functions like natural teeth! They're also easy to take care of, so you can keep smiling.
With our bridges, you'll be able to eat all your favorite foods again and feel confident in your smile. Your friends and family will be amazed at how natural your new teeth look. And our implant-supported bridges in Flowood are affordable.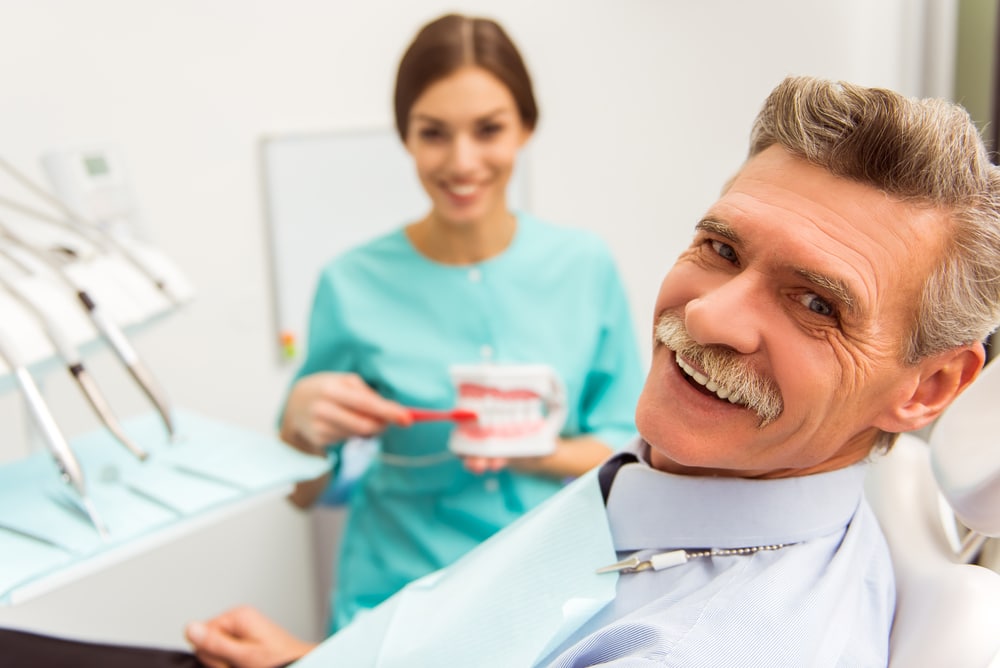 Like dentures, they can replace several teeth. But unlike dentures, they are non-removable. They are set securely in place for long-term dental functionality – you never have to worry about removing them, and you never have to worry about them slipping or coming loose while you speak or eat.
Schedule a consultation today to see if implant-supported bridges are suitable for you!
What are Implant-Supported Bridges, and How Do They Work?
Implant-supported bridges are an alternative to traditional dentures. They are made up of two implant posts that we place in your jawbone and a false tooth or teeth in between. The implant posts act as anchors for the bridge and keep it securely in place.
This type of bridge is an excellent option for people who have lost more than one tooth or need tooth extractions. It is also a good choice for people who have difficulty wearing traditional dentures.
Who is a Candidate for Implant-Supported Bridges?
To be a candidate for implant-supported bridges, you must have healthy gums and enough bone in your jaw to support the implant posts. It would be best if you were committed to oral hygiene and willing to care for your implant-supported bridge.
The best way to determine if implant-supported dentures are right for you is to schedule a consultation with our team. Dr. David Henry and Dr. Greer can examine your mouth and jaw and let you know if implant-supported bridges are a good option.
What are the Benefits of Implant-Supported Bridges?
There are many benefits of implant-supported bridges. Here are some of the most popular reasons our patients love implant-supported bridges:
Improved Appearance: implant-supported bridges look just like natural teeth! Our high-quality materials make your implant-supported bridge indistinguishable from your natural teeth.
Improved Function: implant-supported bridges allow you to eat and speak with confidence. You won't have to worry about dentures which can slip or fall out when you're eating or talking.
Improved Oral Health: implant-supported bridges help to preserve your jawbone and prevent tooth loss. They also make it easier to keep your mouth clean, which helps to reduce the risk of gum disease.
How Long Do Implant-Supported Bridges Last?
These bridges can last for years – between eight and fifteen on average with proper care. However, some factors can affect their lifespan. In particular, maintaining good oral hygiene and regularly visiting a dentist for checkups and cleanings can help ensure the bridge's longevity and surrounding gum tissue. It's also important to remember to treat the bridge just as you would natural teeth – avoid habits like crunching on hard objects or using your teeth as tools.
Implant Supported Bridge in Flowood MS
Implant-supported bridges are an excellent option for people who are missing one or more teeth. They offer many benefits, including improved oral health, an enhanced appearance, and greater comfort. If you're interested in implant-supported bridges or want to schedule a consultation, please call our office today. We would be happy to answer any of your questions and help you determine if this is the right treatment for you. Thanks for considering Lakeland Family Dentistry – we hope to see you and your smile soon!