Dental Implant Placement Procedure
Dental Implant Placement Procedure in Flowood, Mississippi
Welcome to Lakeland Family Dentistry! Our experienced team of dentists and hygienists offer quality treatment with a personal touch in a comfortable and friendly environment. Plus, our convenient location makes scheduling an appointment more straightforward than ever! We include services like dental exams, teeth whitening, and procedures for dental implant placement in Flowood, Mississippi.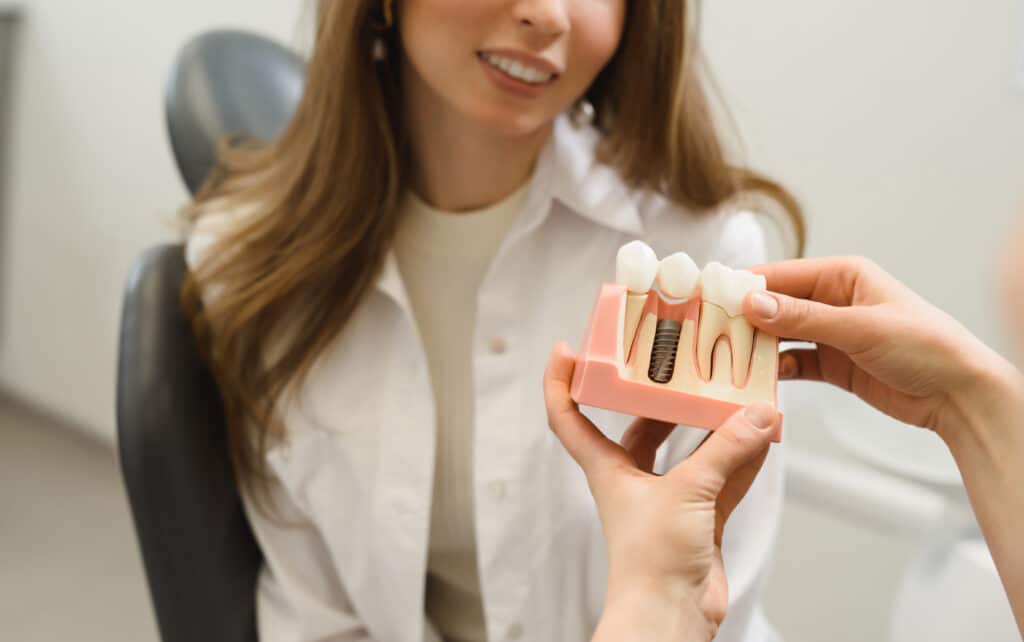 Dental implants are an excellent solution for replacing a missing tooth. They function like your original teeth and therefore require the same daily maintenance as you would use for any other teeth. They are long-lasting and can provide results that look and feel incredibly natural. The placement procedure is relatively straightforward and can be done in just one or two office visits. First, your dentist will assess your oral health and determine if the implant is the best treatment. They will take an X-ray to ensure no bone loss around the area. Then, you'll get the implant surgically placed below the gum line, which bonds with the jawbone over several months. Once this is done, we use a special abutment to attach the artificial tooth to the implant post. With proper care and regular checkups, you can expect these implants to last for many years – restoring your smile and giving you back confidence!
Schedule a consultation today with Dr. Henry, Dr. Greer or Dr. Carlton. 
Some Benefits of Dental Implants
Dental implants offer incredible benefits to those looking to improve and maintain their oral health. In addition to providing a solid foundation for replacement teeth, implants can help with speaking and eating stability. 
And dental implants are not just for dental functionality. They also have numerous cosmetic benefits, such as replacing lost teeth or filling in gaps created by missing teeth. 
When designed and fitted correctly, dental implants can last a lifetime. With proper oral hygiene and regular visits to the dentist, your implant should last as long as natural teeth. 
Caring For Your Dental Implants
Caring for your dental implants is vital in ensuring they serve you well! Like any tooth structure, it's essential to take good care of them. First, it's crucial to maintain healthy hygiene habits like natural teeth. Brush two times a day and floss once daily; using a string or water flosser is great for implant teeth that may be harder to clean. Additionally, visit our team regularly for checkups and professional cleaning. During these appointments, your dentist will ensure that any plaque buildup is removed from the bridges or crowns; otherwise, they can become loose and give you sore spots.
You can still expect to go through regular checkups every six months and potential repairs if there are any issues. During these visits, your dentist will also take x-rays to check the health of the gums around the implant. It is essential to follow any instructions from your dentist concerning care and maintenance for dental implants to ensure they stay healthy and will remain in your smile for many years.
And be cautious when biting into foods that are extra hard or sticky. These can put extra strain on the implant and, over time, cause damage that requires costly repairs. So if you want your implants to look great for many years to come, remember to think twice (or three times) before biting into something that could chip or break the surface. If you have any questions—call us anytime!
Lastly, if you experience any pain or inflammation with your dental implants – don't hesitate to reach out to your dentist immediately. These measures will help keep your implants healthy and looking beautiful!
Dental Implant Placement Procedure in Flowood
With dental implants, you can change your entire smile! They make it easier to live life on your terms with a dependable and natural-looking solution. 
We understand that taking care of your teeth is vital for your overall health and appearance. That's why we take the time to get to know you individually. We want to get to know you and your dental goals – not just your teeth. With us on your side, you can keep smiling confidently year-round! Contact us today at (601) 980-0177 or book an appointment online now!